Description
Black thick inner cooking pan
Convenient steam cooking function with steaming basket accessory
Multi-menu Settings: White rice/ Sushi rice, Mixed rice, Porridge, Sweet rice, Brown rice, Steam cooking, Quick cooking
Automatic Keep Warm, extended keep warm and reheating cycles
Convenient delay timer
Detachable and washable inner lid

Rating : AC 220 - 230V ~ 50/60Hz
Electric Consumption : 560 - 610W
Average Power Consumption during Keep Warm : 32W
Rice Cooking System : Direct Heating
Length of Power Cord : 1.1m
External Dimensions (approx. cm) : 26.5 (W) x 37 (D) x 21.5 (H) (41*Height with the Outer Lid open)    
Weight : Approx. 3.3kg

* The average power consumption during Keep Warm is calculated with the Rice Cooker at maximum capacity and at a room temperature of 20°C.
* This product may not operate properly in certain environments or places with high altitudes or extreme weather conditions. Please avoid using this product in such areas.

Related Parts (Please click to order):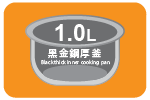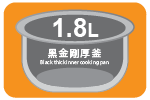 Customer Reviews
{{'product.product_review.no_review' | translate}}